The staff of Hawaiian Riders went out of their way to be helpful and we got the Jeep we wanted. I was hoping for a dark blue 4 wheel drive jeep and that's exactly what we drove all week in Maui. The Jeep was clean and freshly washed when we got in and the rental came with an excellent map of Maui too. The staff was also forthcoming in their favorite places to take a Jeep in Maui and we ended up having a great time. We felt 267.50 plus other fees was a lot of money but we sure appreciated the vehicle when we arrived. Overall we had an good experience and would recommend this business to others.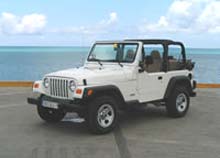 Originally published in February 2007
We were so proud of this review we discovered that we decided to post it for our users.
The staff at HawaiianRiders.com (realize this was over ten years ago, how time flies.)